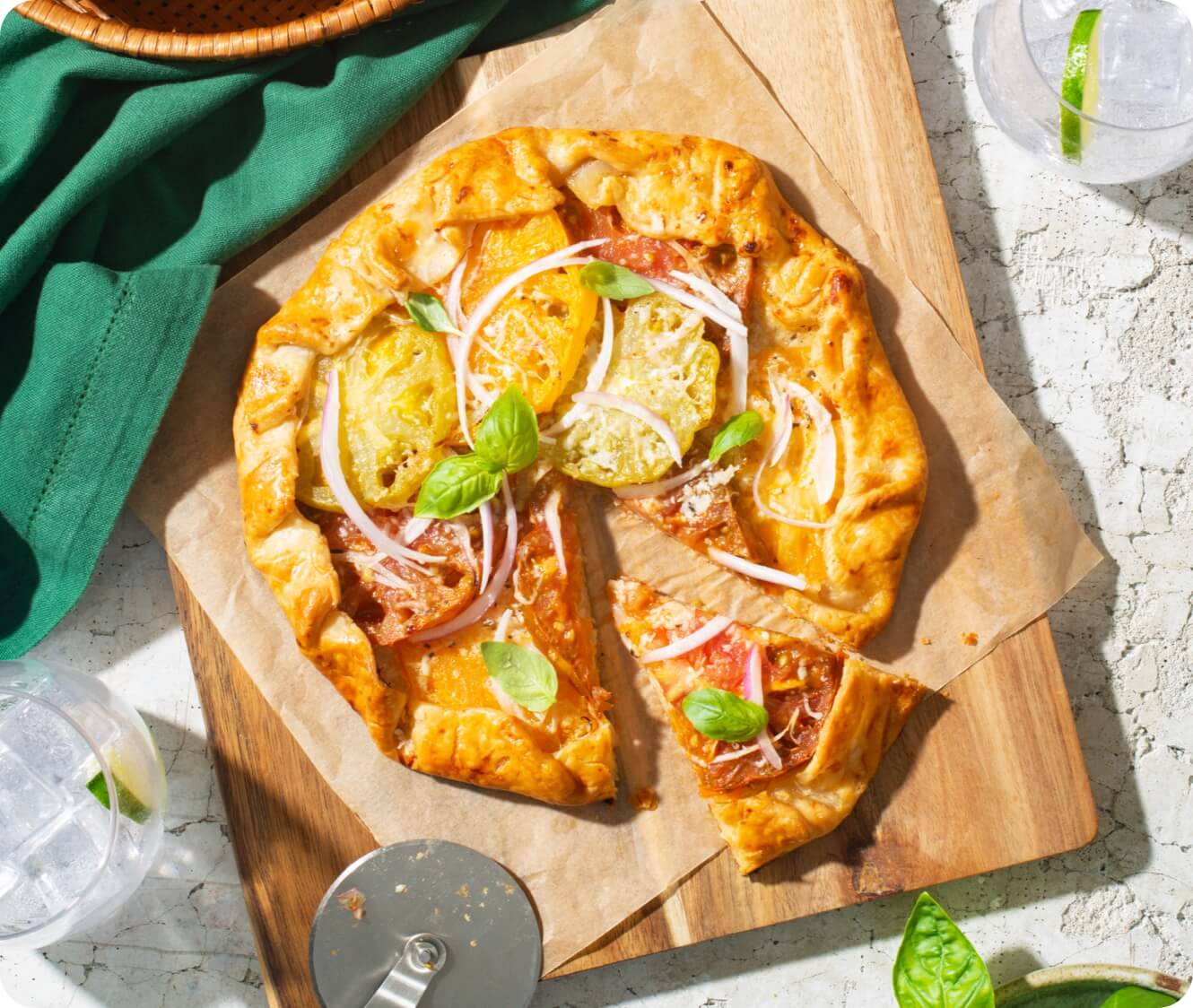 RECIPES
Ingredients
1 egg
1 refrigerator rolled pastry crust (7 oz)
1 tbsp Dijon mustard
1 cup grated Parmesan cheese, divided
2 medium assorted heirloom tomatoes, cut into 1/4-inch slices
1/4 red onion, thinly sliced
2 tbsp Newman's Own® Lemon Basil Vinaigrette
1/4 tsp salt
1/4 tsp black pepper
8 fresh basil leaves, torn
Directions
2
In small bowl, whisk together egg and 1 tbsp water
3
Arrange pastry crust on parchment paper–lined baking sheet. Spread mustard evenly on crust, leaving 2-inch border. Sprinkle 3/4 cup cheese over top.
4
Arrange tomatoes and onion on top of cheese in decorative pattern, slightly overlapping. Drizzle with vinaigrette, then sprinkle with salt, pepper and remaining cheese.
5
Fold edges of pastry toward the center, overlapping toppings, to create a pleated border. Brush pastry with egg wash.
6
Bake in lower third of oven for 30 to 35 minutes or until sauce bubbles and pastry is golden brown.
7
Let cool for 10 to 15 minutes before slicing. Cut into wedges, garnish with basil and serve warm or at room temperature.
OUR FOUNDATION
100% Profits
to Help Kids
Newman's Own Foundation nourishes and transforms the lives of children who face adversity.