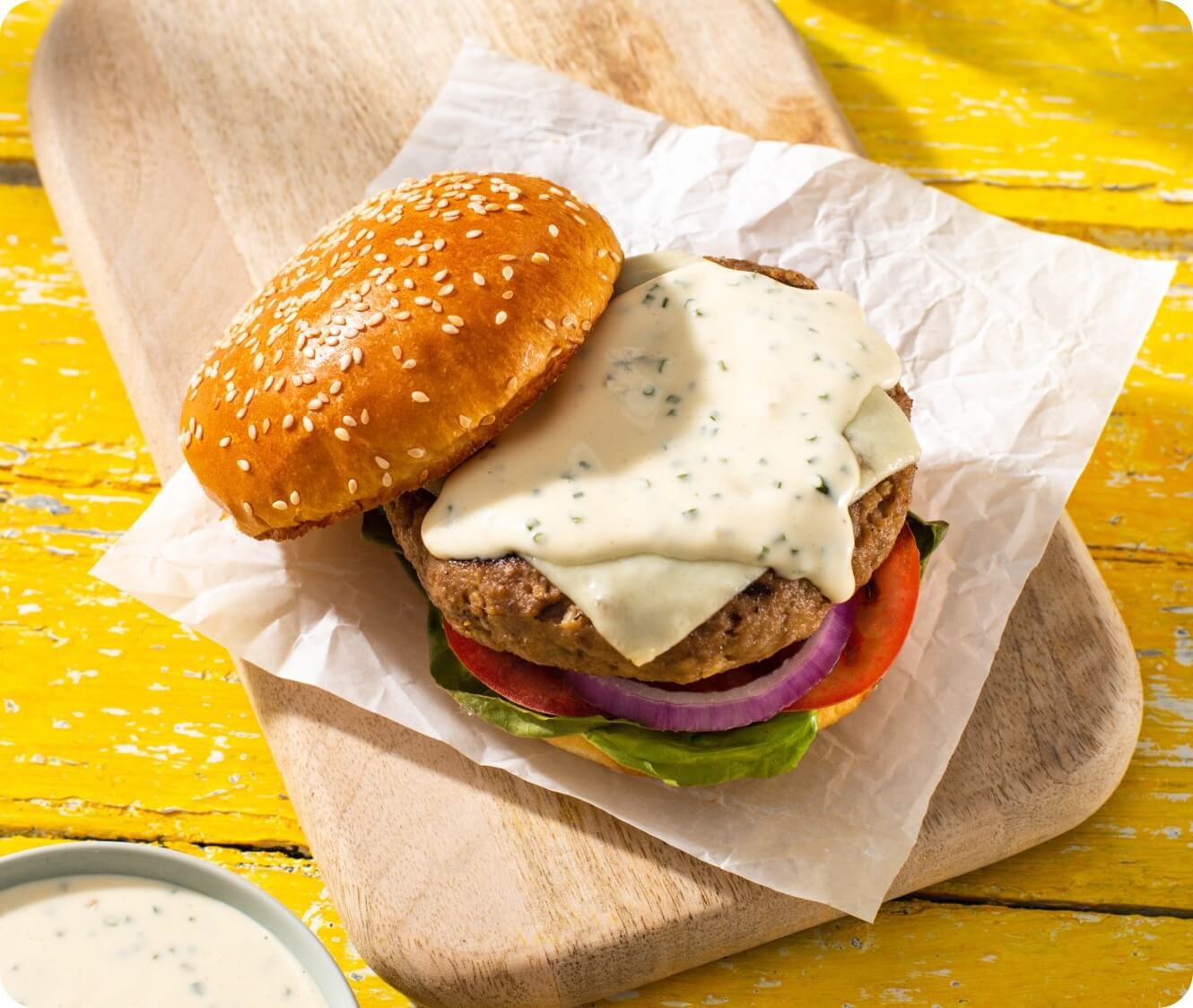 RECIPES
Ingredients
1/2 cup mayonnaise
1/2 cup Newman's Own® Garlic Vinaigrette and Marinade, divided
2 tbsp finely chopped fresh chives
1 tbsp Dijon mustard
1 lb lean ground beef
1 egg
1/4 cup breadcrumbs
1/4 cup grated white onion
6 cloves roasted garlic, mashed
1/2 tsp Newman's Own Coarse Ground Black Pepper
1/2 tsp Newman's Own Sea Salt Flakes
4 slices mozzarella cheese
4 sesame seed burger buns, split
4 leaves lettuce
4 thick slices tomato
4 slices red onion rounds
Directions
1
In small bowl, whisk together mayonnaise, 1/4 cup vinaigrette, chives and mustard.
2
In medium bowl, stir together ground beef, egg, remaining vinaigrette, breadcrumbs, white onion, garlic, salt and pepper until combined. Divide mixture into 4 portions. Shape each into 1/2-inch-thick patty.
3
Preheat grill to medium-high heat; grease grates well.
4
Grill patties, turning once, for 8 to 14 minutes or until grill-marked, no longer pink and an instant-read thermometer registers 165°F when inserted sideways into center of burger.
5
Top each burger with cheese slice. Grill for 1 minute or until cheese starts to melt. Meanwhile, grill buns for 30 to 60 seconds or until lightly toasted.
6
Assemble burgers in buns with garlic mayo, lettuce, tomato and red onion.
Tip: For Roasted Garlic: Preheat oven to 425˚F. Slice tip from head of garlic to just reveal cloves. Drizzle with 1 tsp olive oil, wrap in double layer of foil and arrange on baking sheet. Bake for 25 to 30 minutes or until garlic is soft and tender. When cool enough to handle, squeeze out cloves from head of garlic. Store in airtight container in the refrigerator for up to 5 days.
Products used in this recipe
OUR FOUNDATION
100% Profits
to Help Kids
Newman's Own Foundation nourishes and transforms the lives of children who face adversity.