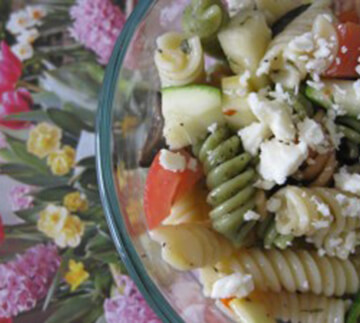 RECIPES
Ingredients
1 cup Newman's Own® Olive Oil & Vinegar Dressing
juice of ½ a lemon
½ tsp Newman's Own Organic Ground Thyme
1 tsp Newman's Own Organic Basil Leaves
½ tsp garlic, minced
pinch of Organic Crushed Red Chili Pepper Flakes
¾ tsp Newman's Own Sea Salt Flakes, less or more to taste
½ tsp Newman's Own Coarse Ground Black Pepper, less or more to taste
¾ pound multi-colored pasta
½ zucchini
½ yellow summer squash
2 Roma tomatoes
½ can artichoke hearts
½ can olives
feta cheese for topping
Directions
1
Combine vinaigrette, lemon juice and seasonings. Taste and adjust seasonings to your liking.
2
Cook pasta according to package directions.
3
Wash and chop all vegetables. Combine with cooked pasta and toss gently with dressing.
4
Refrigerate at least 1 hour before serving.
Products used in this recipe
OUR FOUNDATION
100% Profits
to Help Kids
Newman's Own Foundation nourishes and transforms the lives of children who face adversity.