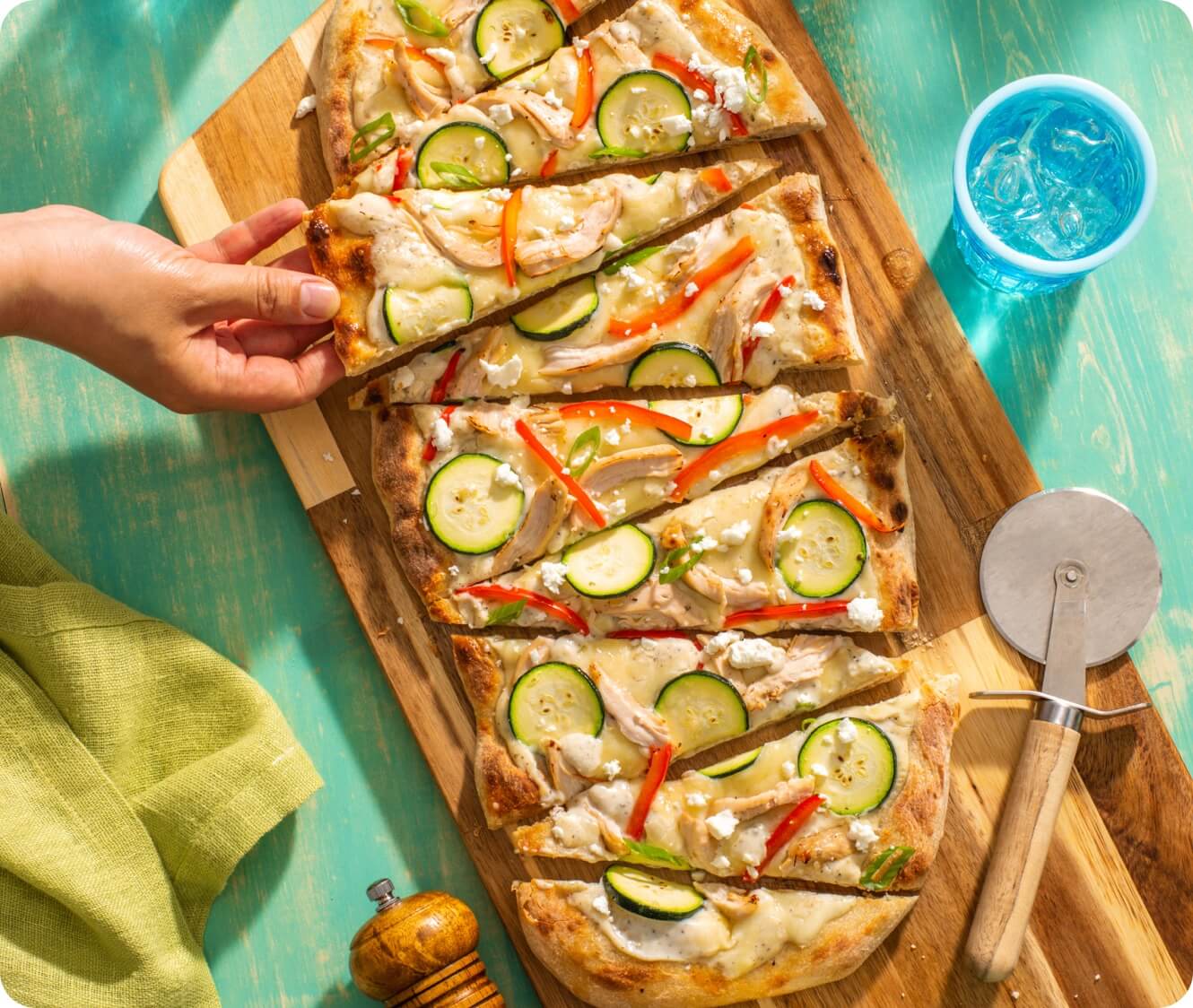 RECIPES
Chicken Zucchini Flatbread
Ingredients
Chicken:
2 boneless skinless chicken breasts (each about 5 to 6 oz)
1 1/2 tsp salt
1/2 tsp black pepper
Vegetables:
1 zucchini, sliced
1 red bell pepper, sliced
Sauce:
2 tbsp butter
3 tbsp all-purpose flour
1 1/4 cups milk
4 cloves garlic, minced
1 1/2 cups shredded mozzarella cheese
2 1/2 oz cream cheese, softened
1 1/2 tsp salt
1 tsp dried oregano
1 tsp black pepper
Flatbread:
1 1/2 lbs store-bought pizza dough
1 cup shredded mozzarella cheese
2 tbsp crumbled feta cheese
2 scallions, thinly sliced
Directions
1
Chicken: In small bowl, rub chicken with vinaigrette, salt and pepper. Cover and marinate in refrigerator for 25 minutes and up to 8 hours.
2
Preheat oven to 425˚F. Transfer chicken to parchment paper–lined baking sheet (discard marinade).
3
Bake chicken for 10 to 12 minutes or until cooked through (leave oven on). Let cool. Using hands or 2 forks, shred chicken.
4
Vegetables: In another small bowl, toss together zucchini, red pepper and vinaigrette until coated. Let marinate at room temperature for 5 to 10 minutes.
5
Sauce: In small saucepan set over medium heat, melt butter. Add flour and stir until a dough forms. Slowly pour in milk and whisk for 1 to 2 minutes or until thickened. Add garlic, mozzarella, cream cheese, salt, oregano and pepper. Cook, stirring occasionally, for 5 to 8 minutes or until cheeses have melted and a sauce forms. Remove from heat.
6
Flatbread: Meanwhile, on lightly floured work surface, halve pizza dough. Roll out each portion into a 14 x 8-inch oval about 1/4-inch thick. Arrange each flatbread crust on parchment paper–lined baking sheet. Par-bake for 8 to 10 minutes or until dough is slightly cooked but has no color.
7
Spread cheese sauce over each crust, leaving 1/2-inch border. Sprinkle evenly with mozzarella. Top with chicken, zucchini and red pepper. Bake for 3 to 5 minutes or until heated through. Increase oven to broil. Broil, rotating halfway, for 3 to 5 minutes or until cheese is bubbling and pizza crust is charred.
OUR FOUNDATION
100% Profits
to Help Kids
Newman's Own Foundation nourishes and transforms the lives of children who face adversity.