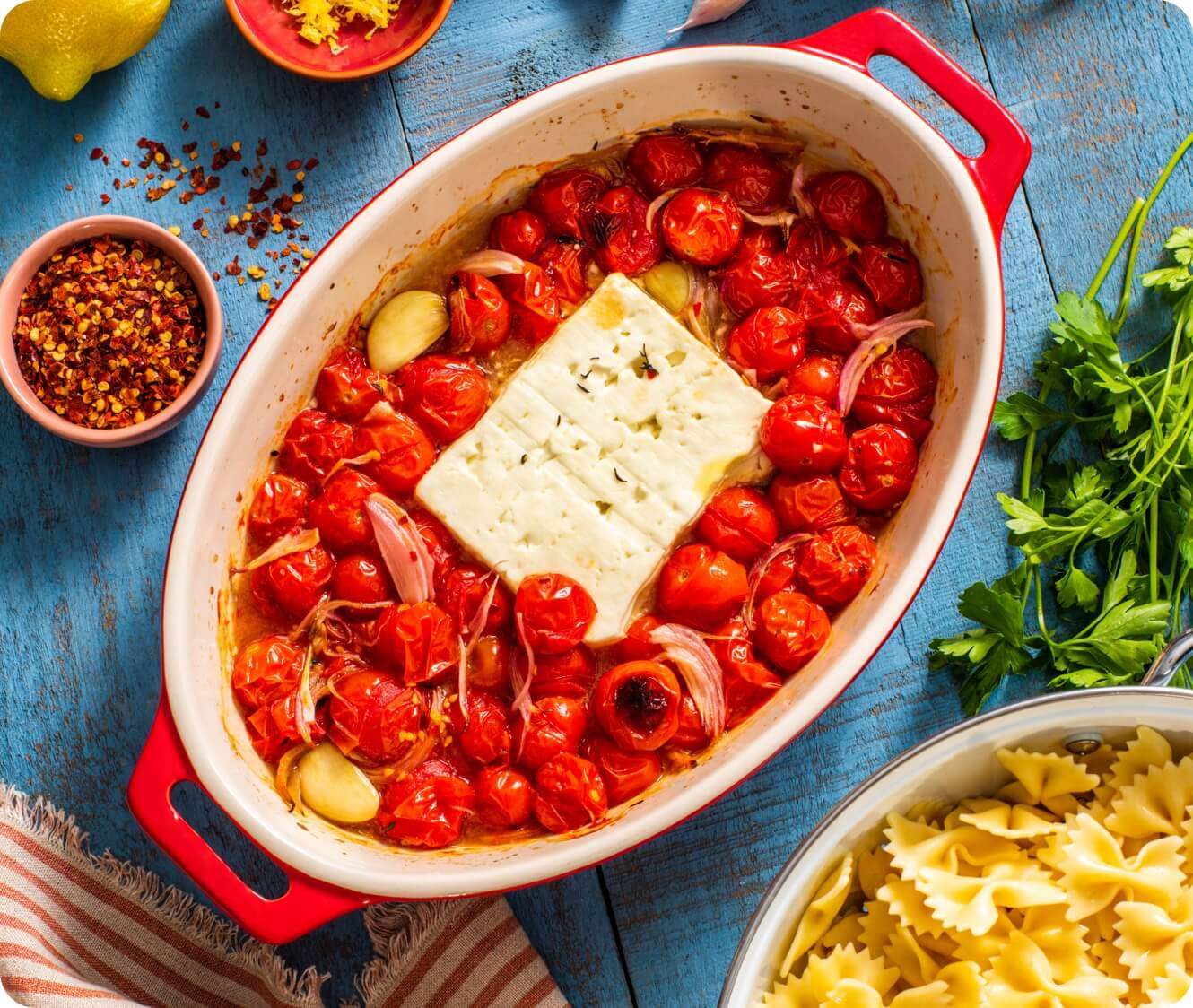 RECIPES
Roasted Tomato Feta Pasta Toss
Ingredients
4 cups cherry tomatoes
2 shallots, thinly sliced
6 cloves garlic, halved
1/2 cup Newman's Own Garlic Vinaigrette & Marinade, divided
1/2 tsp salt
1/2 tsp black pepper
1/4 tsp chili flakes
1 block (8 oz) feta cheese
6 small sprigs fresh thyme
12 oz farfalle pasta
1/4 cup thinly sliced fresh basil leaves
1 tbsp freshly grated lemon zest
2 tbsp freshly squeezed lemon juice
2 tbsp finely chopped fresh parsley
Directions
2
In 9-inch square baking dish, stir together tomatoes, shallots, garlic, 1/4 cup vinaigrette, salt, pepper and chili flakes. Arrange feta in center of baking dish, with tomatoes mixture surrounding it. Top with thyme sprigs and drizzle with remaining vinaigrette.
3
Bake for 30 to 35 minutes or until tomatoes are splitting and feta is golden brown. Discard thyme sprigs. Stir together tomatoes mixture and feta until feta starts to crumble.
4
Meanwhile, cook farfalle according to package directions. Reserve 1/4 cup cooking liquid; drain farfalle.
5
Add pasta and pasta cooking liquid to tomato mixture. Add basil, lemon zest and lemon juice; stir until well coated.
6
Garnish with parsley before serving.
OUR FOUNDATION
100% Profits
to Help Kids
Newman's Own Foundation nourishes and transforms the lives of children who face adversity.